Elephant Man memorial backed by the Mayor of Leicester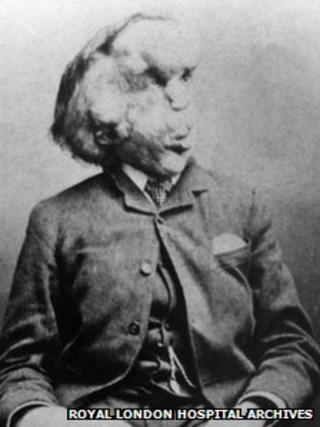 The Mayor of Leicester has backed calls for a memorial to Joseph Merrick, the man who was also known as the Elephant Man.
Mr Merrick was born in Leicester in 1862 and suffered from a rare bone disorder which left him disfigured.
His life was depicted in a 1980 David Lynch film featuring John Hurt and Anthony Hopkins.
Peter Soulsby, the Mayor of Leicester, said a memorial to Mr Merrick would help raise awareness about disability.
He said: "I'm determined that we should have a memorial to Joseph Merrick because he's an important part of Leicester's history and far beyond.
"We're not good in Leicester at remembering the important events and people from our past. The story of Joseph Merrick deserves to be told."
Mr Merrick's tragic early life and rescue by the surgeon Sir Frederick Treves formed the basis of Lynch's film.
Mr Merrick's mother died when he was a youngster and was later rejected by his father and his stepmother.
Mr Merrick had spent four years at a Leicester workhouse before he persuaded a showman to exhibit him.
It was during this time that he got the nickname of Elephant Man due to his enlarged skull.
He was 27 when he died in hospital in London.