London 2012: Olympic torch relay test event warning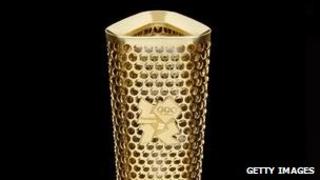 People in Leicestershire and Rutland are being warned to expect disruption ahead of a dress rehearsal for the London 2012 Olympic torch relay.
Leaflets are being sent to 3,500 homes and businesses along the planned route advising them of road closures.
Games organiser Locog has chosen the counties to host the test event as it takes in both rural and urban locations.
The test event, over 80 miles, will take place on 20 April.
Leicestershire County Council said a rolling road closure would be used and residents would need to remove their vehicles from the route in advance of the convoy.
Drivers are being asked to avoid travelling on the route itself. Public transport will also be affected.
The rehearsal is designed to test the convoy, crew and communication procedures in advance of the relay, although people are not being encouraged to line the streets.
There will be no flame on display.
The dress rehearsal will recreate the torch's journey on 3 July . It starts at the Space Centre in Leicester and travels through Quorn, Loughborough, Hoton, Wymeswold, Asfordby, Melton Mowbray, Langham, Oakham, Uppingham and Stamford before ending the day at Peterborough, Cambridgeshire.
The Olympic flame arrives in the UK on 18 May and begins its 70-day journey at Land's End, Cornwall, on the morning of 19 May.
It will pass through 1,018 UK places, as well as visiting Dublin, on its journey to the opening ceremony of the Olympic Games on 27 July.
The torch will be carried by 7,300 people who were nominated and the remaining 700 will be athletes and celebrities.
Each torchbearer will carry the flame for about 300m and about 110 people will take part each day.
Leicestershire County Council cabinet member Ernie White said: "I'm delighted Leicestershire has been chosen to host this prestigious event and it's a unique opportunity to showcase the area to a national audience.
"Managing the dress rehearsal is important and we're working with the police, city and district councils and others to co-ordinate plans and ensure safety.
"It's important to stress that with an event of this size, traffic disruption is inevitable but the approach is designed to minimise hold ups and ensure that the event keeps to schedule.
"Signs will be put up in advance to alert road users and marshals will be in place on the day to control traffic but we would urge everyone to read the leaflet, heed the advice and plan ahead."
The county council said roads would typically be closed off about 10 to 15 minutes in advance of the arrival of the torch and would re-open about 30 minutes later, once the convoy had passed.