Rutland Water osprey's 3,000-mile migration trip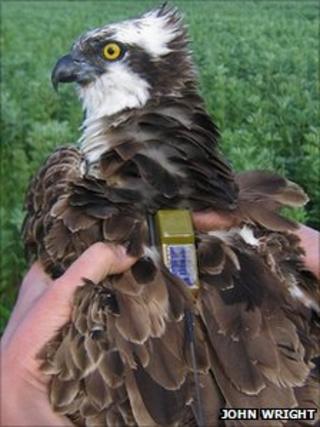 Transmitters with built-in GPS technology have allowed conservationists in Rutland to map an osprey's 3,000-mile migration trip.
Osprey 09 was fitted with a satellite transmitter last summer and having returned to Rutland Water, project officers have downloaded the details.
Data shows Osprey 09 spent his winter in Senegal, West Africa before beginning a 16-day return journey.
The 14-year-old male has now clocked up 75,000 migration miles (120,700 km).
Tim Mackrill, from the Leicestershire and Rutland Wildlife Trust, said: "It was enthralling to follow 09's migration in such detail.
"Although he has made the journey many times, the north-easterly winds which blew him out into the Atlantic made the flight incredibly demanding.
"It was a relief to see him arrive back at Rutland Water."
French chateau
Osprey 09 began flying back to Rutland Water on 12 March. He was blown out to sea off the coast of Western Sahara and flew through severe sandstorms.
Once in Europe, he flew all night through Spain and spent the night in the grounds of a chateau in the Loire Valley in France before crossing the English Channel and arriving home on 28 March.
Between 1996 and 2001, 64 ospreys were translocated to Rutland Water from Scotland in a bid to restore a breeding population in central England.
Since 2001, 53 young ospreys have fledged from nests in the Rutland Water area.