Leicester gypsy sites consultation gets 1,000 responses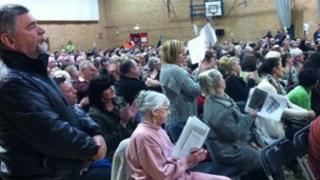 A consultation on plans to create three sites for Gypsies and travellers in Leicester has had more than 1,000 responses since February.
The city council named three sites in the north west of the city as potential developments after its existing site at Meynells Gorse became full.
The plans received strong opposition from concerned residents.
Council leader Labour's Sir Peter Soulsby has now released a list of 350 sites which were considered.
The council said it whittled the list down to nine possible options before the sites, at Greengate Lane, Beaumont Way and Red Hill Way, were identified as the best choices.
Other areas given consideration included Aylestone and Beaumont Leys.
More than 500 people attended a public meeting in Birstall, one of the villages close to the proposed sites, about the plans last month.
Later the council announced it was extending its consultation to the end of July.
'Strong feelings'
Roger Wilson, a Lib Dem county councillor for Birstall, said many residents were worried about the potential loss of green space and felt annoyed all three sites were on the north-west side of Leicester.
Sir Peter said: "I'm determined that, before we make this very important decision, we've double checked all of the possible options have been fully explored.
"I want the council's scrutiny commission to have an opportunity to do that and equally importantly I want to make sure the people of Leicester have the opportunity.
"Inevitably the development of traveller sites is something that provokes a lot of interest.
"I'm sure people will continue to feel strongly about these particular sites and no doubt if they looked at some of the alternatives, they would feel that they too are in some way unsuitable.
"But I'm determined we will find ways of dealing with what has been a problem within the city for many decades - and that's the problem of unauthorised traveller sites."
Conservative councillor Ross Grant said: "The important thing is that local people get a say in what is going on. There's a concern that isn't happening at the moment.
"And because these three sites are quite close to the city's boundaries, it is important the concerns of people living in the county are listened to as well."