Leicester traveller site consultation extended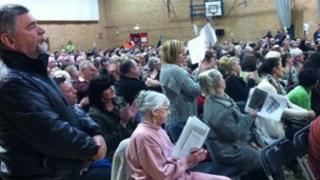 A consultation over traveller sites in Leicester has been expanded and extended in the face of protests.
The city council had wanted to develop land on Greengate Lane, Beaumont Way and Red Hill Way, all on the northwest edge of the city.
Hundreds attended public meetings ahead of an mid-April feedback deadline.
Officials have now confirmed theconsultation has been extendeduntil mid-July and more council sites will be considered.
The council said the issue had to be dealt with as the existing authorised site at Meynells Gorse was full.
Illegal encampments
Leicester's mayor, Sir Peter Soulsby, said: "We should have some fresh pairs of eyes looking at the original options that the council considered for suitable sites.
"And also to look at these three particular sites to see if there is anything we missed about them that we ought to take into account."
He added: "(The consultation) needs to be extended to enable people to put in their views online, in writing and to enable them to have a full understanding of the options the council has considered."
Paul Westley, city councillor for Beaumont Leys, said: "I think it is the right decision to have more time but it is very important a decision is made in the end.
"We are spending thousands of pounds dealing with illegal encampments and it is not fair on the tax payer, especially with finances so tight."