Gorilla shot by poachers: British vets operate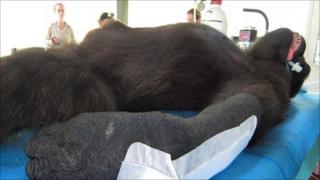 A young gorilla shot by poachers has been given a new lease on life by a team of East Midlands vets which flew to Cameroon to operate on its wrist.
Shufai, a 10-year-old male, was wounded as a baby when his mother was killed for bush meat.
The bones in his wrist were shattered and failed to grow properly in the next few years, leaving him unable to walk on his knuckles or climb trees.
"He needed surgery to get him out of pain," primate specialist Sharon Redrobe of Twycross Zoo in Leicestershire said.
Dr Redrobe, a veterinarian and trustee with charity Ape Action Africa, was asked to help the injured Shufai, who lives at a sanctuary.
Deformed wrist
She explained that Shufai's damaged bone was growing slower than the other main bone in his wrist causing pain and complications.
"He was in a lot of pain and was getting worse as the years went on," she said.
"It was a complicated injury so I contacted two veterinary surgeons who had helped me before with operations on a gorilla at Bristol Zoo and a chimp at Twycross Zoo."
She flew to the sanctuary with surgeons Damian Chase of Pride Veterinary Centre in Derby and Sandra Corr, who works at the Derby clinic and also teaches at the University of Nottingham.
The surgery took place in an open-sided palm shelter normally used for teaching local schoolchildren.
"We put tarpaulins around it for protection - and bleached everything as we really had to plan for every eventuality."
She said Dr Chase and Dr Corr, who usually operate on less exotic animals such as dogs and cats, had to take "two sets of everything" from the UK to Cameroon as sterilizing their equipment on location was not an option.
Bottle of cola
A 5cm (2in) piece of bone was removed from Shufai's deformed wrist to relieve the pressure and pain - and he has made a remarkable recovery.
"The pressure has been relieved and he started 'knuckling' a day after the surgery. He is climbing now and they have let him back into the group."
Western lowland gorillas can live to 50 years old and their bones continue to grow until they are in their late teens.
The gorilla was sedated before the operation and taken to the makeshift operating theatre in a wheelbarrow.
After the surgery, he was rehydrated with a bottle of cola and managed to start walking on his injured hand within a few hours.
Although it will take several years to determine if the operation was completely successful, Dr Redrobe is confident the surgery means Shufai will not need to have his arm amputated.
"We spoke to a surgeon who works on humans - as the anatomy of a gorilla's arm is similar to ours - but you have to remember that human doctors are specialists who work in hospitals not on animals," Ms Redrobe said.
She said she chose the two East Midlands veterinarians because "they're good surgeons - and have worked outside the comfort zone on unusual animals before".
The young gorilla was probably hit in the wrist because he was hanging on to his mother's belly when she was shot.
He was taken to a sanctuary in Mefou National Park after the attack and has lived there since.