London 2012: 1948 Olympic torch inspires children's fitness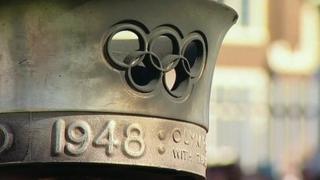 A small Loughborough College project inspired by a 1948 Olympic torch has "snowballed" across the UK.
The Flames project aims to help schoolchildren keep fit. They are trained in Olympic-themed activities by fellow young coaches.
Four local schools initially took part in the scheme but now 400 are involved, reaching about 50,000 pupils.
The 64-year-old Olympic torch was donated to the college by Bill Collins, organiser of the 1948 relay.
The Leicestershire project began life in Loughborough in 2009, with the aim of increasing the fitness levels of students as young as seven.
About 120 children initially took part in physical activities, many getting the chance to try out certain sports for the first time - such as boccia, goalball and wheelchair basketball.
Rob Jarram, from Loughborough College, said: "We just wanted to get our students out into the community and give them the best vocational experience they could get.
"We took the torch into the schools and the inspiration was an instant hit. The programme had a big impact on the young children and since then it snowballed.
"We now have over 400 schools, universities and colleges across the country taking part in the programme."
He said Olympian Sebastian Coe and Paralympian Chris Holmes had helped promote the local project and turn it into a national success.
Teacher Liz Lawton, from Loughborough Primary School, said: "We now do a lot more quality PE, clubs after school and lunchtime sports and students do lots of different activities that they wouldn't normally get a chance to do.
"They're now more interested in the Olympics and feel they have some involvement in it.
"The children later have their own mini-Olympics, called the Flames Festival, with an open and end ceremony with other schools and they get a chance to run with the original 1948 torch, it's like a giant relay."
Schools taking part in the project, which is funded by the British Heart Foundation, are often visited by elite athletes who hope to inspire the children by talking about their sport and taking part in the festival.
Loughborough College has been shortlisted for national accolade the Gold Podium Get Set Award, for inspiring outstanding learning through the London 2012 Games.