Ketton villagers begin campaign against wind turbines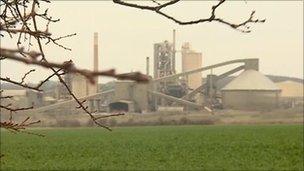 Residents of a Rutland village have started a campaign against plans to install two, 100m (328ft) tall wind turbines.
REG Windpower wants to erect the two turbines in a field next to the Ketton Cement Works.
Residents are concerned the rotor blades could possibly suck exhaust from the cement works downwards, polluting the countryside.
Owen Saward from REG said studies showed emissions would not increase.
"The two wind turbines here would produce enough electricity to power more than 1,300 homes. That's all of Ketton, Tinwell and Easton on the Hill so it's not insignificant," said Mr Saward.
"We've undertaken a very detailed study of the emissions from the chimneys over 10 to 12 weeks and it categorically shows there will be no increase at ground level of emissions," he added.
Claire Andrew who breeds thoroughbred horses from a property near the site of the proposed turbines said she was worried about how her horses would react to the turbines.
"The horses are very highly strung and I don't know what effect the wind turbines, this close, will have on them," said Ms Andrew.
A planning decision about the wind turbines is scheduled for May but objections could delay the process.
Related Internet Links
The BBC is not responsible for the content of external sites.