Market Harborough traders march against Market Hall plans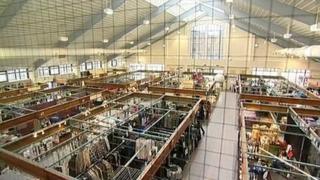 A protest has been held over plans which could see Market Harborough lose its indoor market.
Market Harborough District Council is considering leasing the town's Market Hall to a major retailer and relocating traders to an outdoor location.
The council says the changes will help save taxpayers' money.
But many traders say their businesses will not be able to adapt to outdoors. Campaigners held a rally in the market square on Saturday.
John Cleaver, chairman of the town's branch of the National Market Traders Federation, said: "Market Harborough will no longer be a market town if the market goes.
"The town was actually built on the market. It was given royal assent in 1219."
The current market is open every Tuesday, Friday and Saturday and has 40 different businesses spread over 72 stalls.
Mr Cleaver said nearly all of them would be unable to move outdoors.
"We are in a purpose-built market hall that was built by the council in 1992," he said.
"We've got a food hall with butchers, a bakery, cheese and cooked meats and everything else. You just can't sell these sorts of things outside.
"My business is jewellery where we do gold and silver and we would get robbed if we were in the street.
"About three or four say they possibly could move to the outside but they are saying they wouldn't be prepared to go because all the others can't. It will no longer be a market if they split us up."
Councillor Mike Rook, leader of the council, said: "People realise we can't go on wasting money through poor property management, especially when our funding from government has been cut so dramatically."