Leicester university medical training centre approved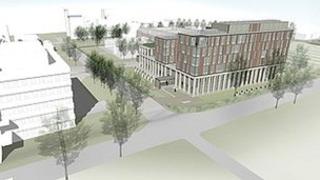 A £30m medical training centre for the University of Leicester has been granted planning approval.
The six-storey building will be built on land at the corner of University Road and Lancaster Road.
The university said it would help keep medical teaching in the city up to date.
The city council, which rejected a similar plan last year, said concerns about disabled access, sports fields and visual impact had been addressed.
Many objections had centred on the loss of playing fields but the university has promised to build new pitches at Stoughton Road in Oadby.
Head of medical education at the university, Professor Stuart Peterson, said it would replace older facilities.
"The building across the road was built 35 years ago and is getting very tired.
"It was also built for a different style of education - nowadays medical students learn in a different way and they need access to a wide range of different resources."
The building is expected to be completed in 2015.