Leicester mayor 'convinced' of need for traveller sites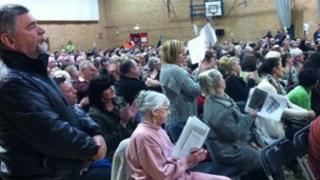 More than 500 people have attended a public meeting to discuss plans to create three new sites for Gypsies and travellers in Leicester.
Sites in the north west of the city at Greengate Lane, Beaumont Way and Red Hill Way have been earmarked by the council.
It said its existing authorised site at Meynells Gorse was full.
Leicester's mayor, Peter Soulsby, said he was "convinced" of the need for more authorised sites.
'Violation of rights'
He said: "What we've got to do is listen, not just to the people who are angry, but to the many people who have made some very legitimate points, for and against these sites.
"Ultimately I'm going to have to take a very difficult decision."
Leicester West MP, Liz Kendall, accepted the sites were needed, but said residents questioned why they were all in the same part of the city.
She said: "This is a city-wide problem and it needs a city-wide solution."
The council said it had looked at sites across the city and the chosen three appeared to be the most suitable in terms of impact on neighbours, access and distance from local families.
Alan Smith, spokesman for the Thurcaston Glebelands Community Group, said the sites would "severely affect house prices in the area" and would be a "violation of residents' rights".
"I'm not opposed to Gypsy sites, but why should we have all three - if they want sites, they should liaise with the county council to find a green wedge in the country - so everybody is happy," he said.