Madeleine McCann case 'reviewed by Portuguese police'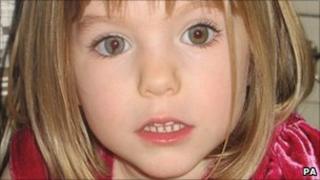 The family of missing girl Madeleine McCann has welcomed reports the case is being reviewed by Portuguese police.
Madeleine, from Rothley, Leicestershire went missing during a family holiday in May 2007 and the investigation was shelved in July 2008.
Now Portuguese newspapers have said the investigative Policia Judiciaria (PJ) was looking at the files but stressed no new evidence had been found.
The McCanns said they hoped the review would lead to the case being reopened.
Reports said a team of detectives based in Oporto in northern Portugal had been appointed to re-examine the original investigation.
Members of the PJ had been looking at the case for some weeks, the newspapers added.
Scotland Yard officers have been carrying out their own review since last May.
Madeleine was nearly four when she went missing from her family's holiday flat in Praia da Luz in the Algarve.
Scotland Yard's review of the case, called Operation Grange, was launched after a request from Home Secretary Theresa May supported by Prime Minister David Cameron.
McCann family spokesman Clarence Mitchell said: "Kate and Gerry obviously welcome the work being done by the PJ in Oporto alongside that of the Met investigative team.
"They clearly hope that it will lead to the case being reopened in due course."