Plans for £4m Jubilee Square in Leicester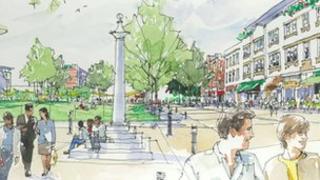 Plans for a new £4m public open space in Leicester have been unveiled by the city council.
It will be named Jubilee Square to mark the Queen's visit to the city on Thursday in the year of her Diamond Jubilee.
The new square will be located at St Nicholas Place, near to where the High Cross was originally positioned.
To help fund the project, Leicester City Council will bid for cash from the European Regional Development Fund.
The authority said the rest of the money would come from the sale of council assets.
New gardens
Leicester's Mayor Sir Peter Soulsby said: "The creation of a civic square will be a big step towards reconnecting Leicester with its heritage and will give visitors a wonderful first impression of the city."
He added that he would like to see the initial stages of work get under way this year.
The High Cross, currently located on Cheapside, will be moved to the new square, returning it close to its original position, where it would have been at the centre of the medieval town.
New gardens will replace the car park, park-and-ride hub and taxi rank, which are currently sited at St Nicholas Place.
Detailed designs are yet to be drawn up but the council is aiming to keep the park-and-ride services and taxi rank close by, possibly on St Nicholas Circle.