Diamond Jubilee: Leicester prepares for royal visit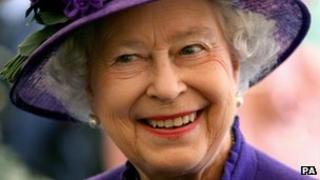 More than 10,000 Union Jack flags and 1,000 metres of bunting are due to be delivered to Leicester City Council ahead of this week's royal visit.
The Queen, accompanied by the Duke of Edinburgh and Duchess of Cambridge, will visit the city on Thursday at the start of her Diamond Jubilee tour.
Areas around each of the venues being visited by the royal party will be decorated, the authority said.
Flags will also be handed out to members of the public.
The tour will begin at De Montfort University with a performance by students and community groups celebrating the city's diversity in Magazine Square.
The Queen and duchess will then watch a fashion show by students, while the duke meets representatives of the university's Square Mile initiative, which helps local community projects.
The royal party will then be presented with gifts to commemorate their visit, before the Queen is asked to unveil a commemorative plaque in Magazine Square.
The Queen will also attend a service at Leicester Cathedral, where she will meet the Right Reverend Tim Stevens, the Bishop of Leicester, before visiting the Haymarket Memorial Clock Tower, where she will be welcomed by city mayor Sir Peter Soulsby.
She will return to the East Midlands for a visit to Nottingham on 13 June, with the tour due to finish on 25 July in the south east of England.