Four thousand Leicester potholes repaired in nine months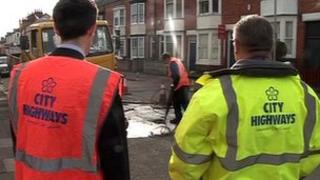 Maintenance crews have filled in 4,000 potholes since May at a cost of about £250,000, Leicester City Council has said.
Tackling the winter damage to the city's roads was one of the pledges made by incoming city mayor Sir Peter Soulsby.
Rory Palmer, deputy mayor, said the problem was "a moving feast" and the scheme was still a top priority.
He asked for the public to continue inform the council of any issues.
"The last two very severe winters caused a lot of damage to the city's roads, which is why we made pothole repairs one of our top priorities," Mr Palmer said.
"This is a big priority for local people. We've listened and we've continued to respond.
"We are proposing to increase our highways maintenance budget next financial year to ensure that this important work can continue," he said.