Call for Leicestershire County Council leader David Parsons to resign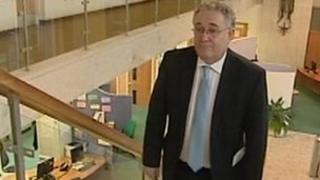 A Labour councillor has called for the leader of Leicestershire County Council to resign after an expenses matter was referred to the Standards Committee.
David Parsons has been accused of not promptly repaying money that he owed for trips to Europe.
A county council report found debts were built up in 2007 but Mr Parsons has denied any wrongdoing.
Labour County Councillor Jewel Miah said Mr Parsons should stand down while investigations take place.
"Do I think he should resign? Yes I do," said Mr Miah.
"If you're facing such serious allegations...against you, it is very hard to concentrate on delivering the savings and the budgets we're going to be debating in the next few months."
A cross-party committee of councillors at the county council met on Monday to discuss a report into the allegations against Mr Parsons.
In addition to not promptly repaying travel expenses, the report raised concerns Mr Parsons frustrated the investigation by not giving permission for the inquiry to see details of the travel costs he claimed.
At one stage, debts of £5,400 built up and in one year, no repayments were made. Mr Parsons said all debts had now been settled.
The committee decided to refer the matter to the council's standards' watchdog which examines members' conduct and behaviour.
No date has yet been set for the Standards Committee hearing but the group made up of five county councillors and two independent people has the power to ask members to apologise, or undertake training and in some circumstances can suspend members for a short time.
Leader of Leicestershire County Council's Liberal Democrat group Simon Galton said the council should wait with any action until proceedings had been completed.
"I do think he is in danger of damaging the reputation and the council and by association, the position of leader," said Mr Galton.
'Rush judgements'
"It is a difficult time in any public office at the moment and I think it is really important people look at the code and obey the code.
"But there is a proper process to follow, you need to allow it to take its course before we rush to any judgements."
The committee also decided Mr Parsons should not be allowed to make any further expenses claims for travel to Europe until a new system was in place.
In a statement from East Midlands Councils, the body on behalf of which Mr Parsons travelled to Europe, a quote from Mr Parsons said: "I welcome the report and will fully co-operate with any investigation ensuing.
"I note that Leicestershire County Council's Standards Committee has been requested to consider the important issues raised by the internal audit procedure.
"As chairman of East Midlands Councils, I will co-operate fully with their deliberations."