Police close city streets during Leicester city centre marches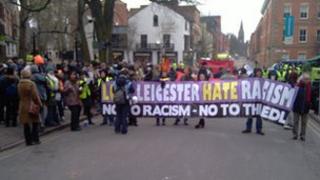 A section of Leicester city centre was closed to traffic on Saturday as two protest marches took place amid heavy security, Leicestershire police said.
About 2,200 police officers were on duty for the English Defence League (EDL) and Unite Against Fascism (UAF) marches. No arrests were made.
The two marches started at 12:30 GMT and lasted for about 90 minutes.
Police estimated about 800 people attended the EDL march and about 200 marched in the UAF event.
Officers from 17 police forces around England were involved in the policing along with 24 police horses and 18 police dogs.
Leicester City Council said St Margaret's Way inbound and King Street were shut from 09:00 GMT until 14:00 GMT.
The authority also said that motorists would not be allowed to park their cars on roads affected by the protests from 09:00 till about 18:00 GMT.