Leicester 'canman' recycles 25,000 aluminium cans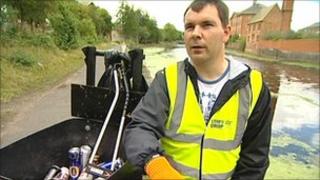 A man from Leicester has collected more than 25,000 aluminium cans for recycling in under 16 months.
Adrian Ablett patrols the city's West End with a modified wheelie bin up to four evenings a week, keeping his eye out for discarded cans.
Mr Ablett then takes his stash to be recycled at a supermarket, earning points on his loyalty card in return.
He has now been short-listed for the Local Environment Champion title at the Keep Britain Tidy awards on 13 March.
'Making a difference'
The 39-year-old said his hobby had taken over a big part of his life after he noticed how much litter there was on the streets near his home.
"People think I'm crazy but I love doing it," the retail salesman said.
"Most of my trips take three hours and I don't stop until I've filled my trolley.
"I never run out of cans to pick up. It's a little soul destroying but there's a job to be done and I don't tend to think about it."
Mr Ablett said his family and friends were proud of what he had achieved so far but he was determined to collect 50,000 cans by the end of 2012.
He said money was initially a factor and he raised about £100 in supermarket points in 2011 but it was now more about the fun.
"My main goal is to promote the idea of recycling and what you can do. I believe I'm making a difference," he said.
"I'm getting exercise and it makes me feel happy. More people should be doing something like this."
Mr Ablett was nominated for a Keep Britain Tidy award by Leicester City Council city warden leader Barbara Wickham.