Leicester teenager protests against bus services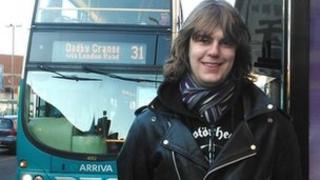 A Leicester teenager has set up an internet group in protest at bus services in the city and county.
Bruce Astill, 19, from Aylestone, said he launched Protest Against Poor Services in Leicester because buses have been unreliable for a long time.
Mr Astill said he hoped a petition, signed by unhappy bus users, would urge companies to improve its services.
Bus company Arriva said it welcomed the opportunity to respond to any complaint and feedback.
'Initiate change'
Mr Astill said the online page, on a social networking site, was aimed at getting people to share stories about their worst experiences of using buses in Leicester and Leicestershire.
"A lot of people are complaining about poor bus services and waiting a long time for buses to turn up, so I thought I can try and initiate change," he said.
"There are also complaints about over crowding, more buses need to be double-deckers at peak times.
"If the bus companies improve their services they would encourage more people to regularly use them," he added.
The online group has attracted more than 640 members since it launched just over a month ago.
The teenager later set up an online petition, which has so far been signed by 37 people.
"We want people to sign the petition to say that we want change, please can you change this for us and then we will submit that to the bus company," Mr Astill said.
Keith Myatt, from bus company Arriva, said: "Where there are issues of late or alleged late running of operations, we would welcome the opportunity to investigate those claims."
He said customers who contact them would be given a reason why a particular bus was late on arrival.