Hallaton helmet goes on public display at Harborough Museum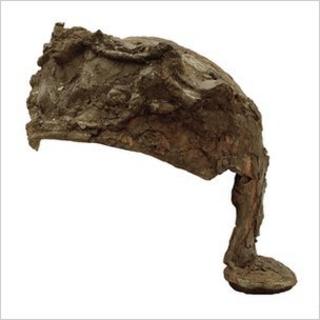 A restored Roman helmet is going on public display for the first time at a Leicestershire museum.
What has been hailed as one of the most significant recent UK Iron Age finds can viewed at Harborough Museum after a nine-year conservation project.
The decorated Roman cavalry helmet was discovered at a site in Hallaton in 2001, along with a number of coins.
The artefact, which was found in several fragments, was restored by a team at the British Museum.
Helen Sharp, South East Leicestershire treasure projects officer, said the Hallaton Helmet had worldwide significance.
"When they first actually found the mass of metal which turned out to be the helmet, they did joke it was just a rusty bucket, they did not realise what they had got," said Ms Sharp.
"Now following nine years of conservation at the British Museum, we have ended up with one of the most spectacular helmets ever found."
Experts said its date, close to the Roman invasion of 43 AD, meant it could be evidence of Celtic tribes serving with the Roman army.
Originally discovered by amateur archaeologists in 2000, the site at Hallaton has yielded more than 5,000 coins, silver ingots and numerous ritual deposits.
The helmet was found with hundreds of coins and a large quantity of pig bones.
Such was its fragile state that the entire block of soil was lifted and sent to the British Museum so it could be excavated under laboratory conditions.
The helmet was found to be made of iron, then covered in silver sheet and decorated in places with gold leaf.
Lavish decoration includes the bust of a woman, a laurel wreath and a mounted figure, possibly an emperor.