Sainsbury's plan to demolish Leicester Belgrave flyover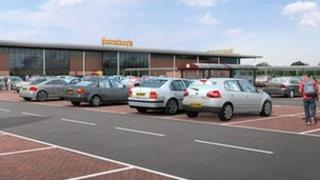 A supermarket giant has unveiled plans for a new Leicester store and the demolition of a flyover.
Sainsbury's hopes to build the store on the corner of Melton Road and Troon Way, in Rushey Mead, on land previously occupied by GE Lighting.
It also plans to close its Belgrave Road store and demolish the Belgrave flyover.
Plans for both projects have gone on display at the Peepul Centre and St Theodore's Church on Sandfield Close.
The supermarket said, once its applications for both areas were submitted and accepted, the Belgrave Road site would make way for food and drink outlets and a range of new retail and business units.
The regeneration of the area would see the flyover, which links the Golden Mile to the city centre, demolished.
Rory Palmer, deputy mayor at Leicester City Council, said: "Opening out the area would be seen as one of the most dramatic public transport improvements in the city for a generation."
But he said a number of questions would need to be answered including how traffic would flow in the area if the flyover was removed.
Mr Palmer added: "The traders on Belgrave Road take the view that removing the Belgrave flyover would be a benefit to them."
Nikunj Parmar, who runs Jay's General Store opposite Sainsbury's, said the closure of the supermarket could financially boost the area.
"Hopefully when they're gone, business should get better and overall taking should be higher," he said.
The supermarket said staff from the Belgrave Road store would be relocated to the new supermarket, which would create a further 300 jobs.
It said the Rushey Mead site would provide more choice and include a petrol station.
About a third of the land would be reserved for future business use.
Sainsbury's said the proposals for both the Belgrave and Rushey Mead sites would be submitted to the city council at the same time, following public consultation.