St Luke's Hospital unit opens 18 months late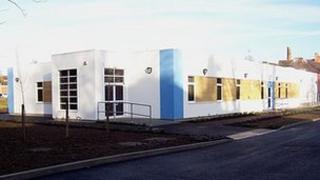 A Leicestershire hospital extension has officially opened 18 months behind schedule.
The Day Case Unit at St Luke's Hospital in Market Harborough will carry out tests, scans and minor operations.
The project struggled with delayed and damaged prefabricated units and the contract of original supplier Modcon UK Ltd was terminated.
Officials denied reports they had gone £1m over the original £2.3m budget.
Leicestershire and Rutland Primary Care Trust said it was delighted with the unit but a final report on costs had to be prepared for the board.
Chief executive Catherine Griffiths added: "What we have to look at is the excess cost due to the Modcon issue as we have put extra investment in to improve the specification.
"Once the new contractor started, at their suggestion we have made some enhancements, so its not a like-for-like comparison."