Max Fraser jailed for £110m machinery scam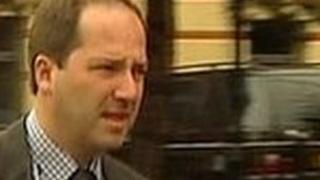 The former head of a plastics firm who admitted fraudulently borrowing £110m has been jailed for eight years.
Max Fraser, 44, convinced more than 30 finance firms to lend him money to buy machinery that he never purchased for Leicester-based Nylacast Ltd.
Fraser, of Cambridgeshire, lived in a £1m home, used a yacht and raced sports cars, Leicester Crown Court heard.
Det Con Jason Helmn said hundreds of people had lost their jobs as a result of Fraser's activities.
Nylacast Ltd was later sold and still exists. It has no connection with the fraud, which involved the use of false invoices.
Fraser pleaded guilty to conspiring to defraud, trading with intent to defraud creditors and conspiracy to commit false accounting at an earlier hearing.
'Great ambitions'
The former managing director, of Main Street, Ufford, was told he would serve half of the eight-year sentence in jail.
Husband and wife David and Elizabeth Liversidge, of Constable Burton, Leyburn in North Yorkshire, were also jailed for their roles in the fraud.
David Liversidge, 64, was convicted of conspiracy to commit false accounting and sentenced to five years, while his wife, 59, was found guilty of conspiracy to commit false accounting and sentenced to three years.
Leicestershire Police spent four years investigating Fraser to get to the bottom of what they described as an extremely complex fraud, which started in 2001.
He persuaded more than 30 banks and financial institutions to finance 700 of the machines. Only 111 actually existed.
Fraser and his family enjoyed a luxury lifestyle, living in a £1m home in Galby, in Leicestershire.
He used the company yacht and had flying lessons.
Sentencing, Judge Sylvia de Bertodano said: "You had great ambitions for Nylacast.
"It may be that you thought wrongly you could trade your way out of this, but you knew you were risking the businesses and livelihoods of those who place their trust in you and your company."
Speaking after sentencing, Det Con Helmn, from Leicestershire Police's economic crime unit, said: "Max Fraser was a very charismatic, intelligent man, very articulate and very persuasive."