Leicestershire plane crash death inquest opens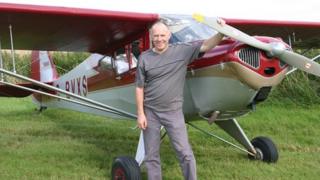 An inquest on a pilot who was killed in a crash involving two light aircraft in Leicestershire has been opened and adjourned.
Martin Hickin, 55, from Coalville, died at the scene at Stoughton airfield just after 14:00 GMT on Sunday. Two men in the other plane had minor injuries.
The coroner heard that Mr Hickin's red monoplane had been in a mid-air collision with another aircraft.
Investigations continue into the crash. The inquest reopens next year.
Det Sgt Mark Tuttle, from Leicestershire Police, gave evidence at the hearing and said officers searched the area and found two aircraft at two separate sites.
He added that it was clear the two planes had been in a mid-air collision.
Mr Hickin, who was found in the wreckage of his plane, was pronounced dead from his injuries by paramedics shortly after they arrived at the airfield near Leicester Airport, Mr Tuttle told the hearing.
Family 'devastated'
Mr Hickin's partner and five members of his family attended the inquest at Leicester Town Hall.
In a statement the family said they were "devastated by the tragic news" of Mr Hickin's death.
"Martin was a wonderful, generous and warm individual who was dearly loved by all his family and friends," the statement read.
"His death has left an enormous gap in all our lives."
Mr Hickin's bereaved family included his two daughters aged 20 and 15.
The family said he "always loved flying" and had been a member of the air cadets in his youth and a civilian glider pilot instructor for the RAF in his 20s.
Mr Hickin was described by his family as a "very experienced pilot" who was "fully aware of, and recognised, the risks associated with flying".
Leicestershire Police and the Air Accident Investigation Branch are continuing to carry out their investigations into the mid-air plane crash.