Leicester Hare Krishna temple moves to ex Midland Bank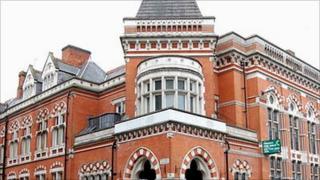 A Leicester Hindu temple which was badly damaged in a fire will be moving into a Grade II* listed building in the city, formerly occupied by a bank.
The Hare Krishna temple will now be based in the old Midland Bank building on Granby Street.
A third of the temple, which was on Thoresby Street, was destroyed in a gas explosion in September 2010.
The temple's president said their plans to develop the historic building were in the early stages.
The Hare Krishna temple was left unusable by the blast. Events and weekly congregations have had to be held in rented spaces around the city for the past 15 months.
'Wonderful architecture'
Pradyumna Das, president of International Society for Krishna Consciousness (ISKCON), said acquiring the keys to the building was a "dream come true".
"We are very excited with this news," he said. "This is a great opportunity for us to bring back into use a fantastic building right at the heart of the city."
Mr Das said after restoring the old bank building, they would use it as a place of worship with a range of community activities and workshops and a restaurant.
"As well as a focus on spirituality and self-realisation, we want to invite the people of our county to come and learn about the heritage of the place and celebrate its wonderful architecture," he said.
However, Mr Das added that a lot of work needed to be carried out before the community could use the building.
The historic building was donated to the Hindu temple by a Leicester family.
The building, which was built in 1875 by famous architect Joseph Goddard, was recently identified by English Heritage as at risk.