De Montfort University honorary degree for Jesse Jackson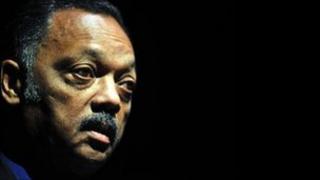 American civil rights campaigner Reverend Jesse Jackson has been granted an honorary degree at Leicester's De Montfort University (DMU).
Reverend Jackson, 70, gave a speech at a conference organised by the Parliamentary Home Affairs Select Committee about radicalisation
The committee is looking at why people become extremists and will report its findings in a government paper.
Reverend Jackson said it was important to teach the "science of non violence".
'Radical love'
"When Jesus kicked over the tables in the temple because the house of prayer had become a house of commerce and thievery, he was radical," he said.
"But it was radical love not radical hate and that becomes our challenge, to teach the science of non violence. Violent reactions to violence just spreads."
Professor Dominic Shellard, vice-chancellor of De Montfort University, said: "We are very pleased to welcome Jesse Jackson to DMU and honour his numerous achievements as an inspirational advocate and campaigner for civil rights in the USA and around the world."
Other speakers at the conference included minister for crime and security James Brokenshire and Ian Paisley Jr MP from Northern Ireland's Democratic Unionist Party.