National Space Academy helps teachers champion aerospace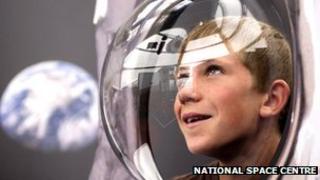 A new academy has been set up to enable teachers to use space as a theme in their core subject lesson plans.
The National Space Centre in Leicester is to lead the programme to promote excellence in science, technology, geography and maths.
Teachers will be able to access training and work alongside scientists to deliver space masterclasses.
The academy is being sponsored by a number of hi-tech firms to promote careers in the aerospace industry.
The National Space Academy will be supported by scientists from the University of Leicester, the University of Nottingham and the STFC Rutherford Appleton Laboratory in Harwell, Oxfordshire.
They will be responsible for training teachers to use space concepts in their lessons, providing careers events and organising a bespoke space engineering apprenticeship at Loughborough College.
Complex theories
A spokesman for the National Space Centre said the courses were designed to address the shortage of trained people entering the aerospace industry.
He said the feedback from a pilot project in the East Midlands had been very positive and teachers had successfully used space and the planets as a way of teaching complex theories such as the laws of motion.
Teachers can apply to the National Space Centre in Leicester to take part in the programme, which they can use to enhance learning for GCSE and A-level students.
Sir Martin Sweeting, chairman of the National Space Centre's board of trustees, said: "Students respond very positively to the subject of space as a context for their learning.
"We have evidence of improved attainment in exam results and teacher effectiveness and a greater likelihood of students choosing science and engineering related subjects at the next stage in their education," he said.
The space academy is backed by leading technology firms and will run alongside other space inspired initiatives to improve the skills of students in secondary schools and colleges.
Minister for Universities and Science David Willetts said: "Space captures the imagination of people of all ages and the National Space Academy will use the UK's world-class expertise in space research and technology to inspire the next generation of scientists and engineers."