Ex-policeman Toby Day was hailed for bravery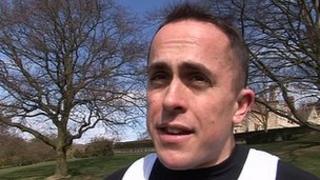 Former police inspector Toby Day, who was found fatally injured along with his wife and daughter, was an award-winning officer hailed for his bravery.
The Melton Times newspaper reported in 2001 that Mr Day was commended for making off-duty arrests while at a supermarket with his daughter.
"We put him forward as his commitment is commendable," Ch Supt George Hannah told the newspaper at the time.
"He is so keen and enthusiastic and has the view he is never off duty."
It has emerged Mr Day had been sacked from Leicestershire Constabulary last week.
The 37-year-old and two members of his family were found with fatal injuries in a house in Melton Mowbray on Thursday.
Fitness enthusiast
Mr Day, his wife Samantha and their six-year-old daughter Genevieve were taken to hospital but died.
Their other daughter, named locally as Kimberley, aged 15, and son Adam, 13, were injured and are in hospital where their conditions are described as stable.
Mr Day, who was once a traffic sergeant at Oakham police station and general-secretary of the Police Cycling Federation, was a fitness enthusiast.
He once ran the London Marathon in memory of a colleague who had been murdered by her ex-partner.
In 2008, he took part in the race to raise money for Crimestoppers, in memory of PC Melissa Ward, who was stabbed to death at her flat, in January 2007.
Speaking about Crimestoppers ahead of the event, he told the BBC: "I have seen through my work how valuable it is and how it can make a huge difference to people who are vulnerable and who wouldn't otherwise wouldn't feel confident contacting police."
Ivan Stafford, chairman of Leicestershire Police Federation, said colleagues had been left shocked by the events on Thursday.
"The force will need time to come to terms with this," Mr Stafford said.