Castle Donington campaigners lose battle to save wall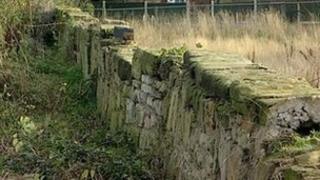 Campaigners have lost their battle to save an ancient wall after a Leicestershire council approved its demolition to make way for new housing.
Castle Donington residents have been campaigning to protect the wall, which they believe was part of a medieval castle that once stood in the village.
But North West Leicestershire Council has now given permission for 13 new houses to be built on the site.
Peter Lindahl, of the Donington Action Group, said it was disappointing news.
Age disputed
"The views of many Castle Donington residents did not appear to play much importance in the committee reaching a decision," he said.
Mr Lindahl said residents were not opposed to development in the village but wanted the builder to incorporate the wall in to the plans.
The campaigners believe that parts of the wall could date back to the 17th century.
But a council archaeologist said the wall was unlikely to date back further than 1840.