AstraZeneca's Loughborough workforce find new jobs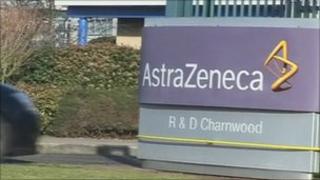 Most of AstraZeneca's 1,300 workforce have found new work ahead of the closure of the pharmaceutical giant's Loughborough research base.
The firm is attempting to sell the site to investors in Asia and North America, but a buyer has not yet been found.
About 380 staff have relocated to the company's other sites in the UK, Sweden and the US, the firm said.
About 650 people have found new jobs while approximately 35 employees have started their own business.
Discussions 'ongoing'
A further 120 staff have either retired, opted to retrain or taken a career break.
It is thought the East Midlands economy could lose as much as £45m annually when the factory finally closes on 31 December.
Simon Moore, from AstraZeneca, said: "We have been proactively engaged in discussions with potential occupiers over several months, including businesses in the healthcare and medical sectors, research bodies, universities and property management companies.
"Discussions with third parties are ongoing but at this late stage we cannot offer any guarantees of success."