Nimrod spy plane goes on display in East Midlands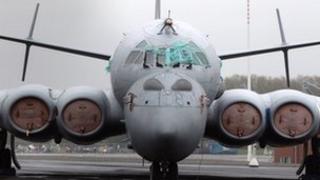 An RAF Nimrod aircraft used in every conflict involving Britain over the last 37 years has opened to the public at East Midlands Aeropark.
The Nimrod, used for surveillance, was only retired in June and was most recently used in Libya.
The public will be allowed to look inside the plane, located near East Midlands Airport in Leicestershire.
The Nimrod 1 was on static display at the Waddington International Air show in July in Lincolnshire.
The Nimrod R1s were operated by 51 Squadron at RAF Waddington and used for reconnaissance and gathering electronic intelligence.
Libya operations
The government decided to keep the Nimrods in service for an extra three months earlier in 2011 to allow them to provide support in the Nato operation in Libya.
Aeropark spokesman Ken Williams said the plane is "a huge aircraft" with testing and radio equipment and room for 24 desks with computers for surveillance work.
"We have to do some more groundwork around the outside of the aircraft," he said.
"Inside the aircraft itself some of the equipment had to be taken out for security reasons - some of which we have managed to get back and have put on display - obviously it doesn't work as such - but we have put it back in."
First used for surveillance work in 1974 at RAF Wyton in Cambridgeshire, the plane was used in Afghanistan in support of British and Nato operations for more than 10 years making it one of 51 Squadron's longest-running operational commitments.
The spy plane was operated by a four-man flight crew - including two pilots, a flight engineer and a weapon systems office - and had a mission crew of 24 operators headed by a mission supervisor.
The Nimrod could be refuelled in the air and was equipped with rotating dish aerials in its bomb bay, tail cone and fuel tanks.
Aeropark officials spent three years negotiating to acquire the Nimrod for its display.