Pension strike hits Leicestershire and Rutland schools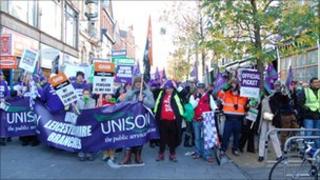 More than 330 schools in Leicester, Leicestershire and Rutland were shut as public sector workers went on strike over pension changes.
The three councils said the impact on other services was kept to a minimum.
Between 2,500 and 3,000 people, from 15 different unions, joined a rally which began on Leicester High Street.
Unison said more than 20,000 of its city and county members had been protesting.
About two million public sector workers across the UK walked out over planned changes to pensions and working conditions.
The government said that with people living longer, the cost of public sector pensions was rising and reforms were desperately needed.
Nicky Morgan, Conservative MP for Loughborough, said: "There is an offer on the table and negotiations ongoing. This strike is inappropriate and untimely."
Keith Labetta, from Unison, was on a picket line outside Leicestershire's County Hall.
He said: "We've been in talks with the government as much as we can and unfortunately we haven't achieved what we need to.
"People need too demonstrate their anger about what's being proposed."
Chris Hanrahan, Unison branch secretary, said: "This is a difficult dispute for us, as our grievances are not with Leicestershire Police but with government ministers, we are left with no other choice than to join the day of action."
Unions marched down Leicester's High Street towards the Clock Tower, through the city centre and finished at the Athena theatre in Orton Square for an indoor rally.
Chancellor George Osborne urged unions on Wednesday to "get back round the negotiating table", warning that the strike was "not going to achieve anything".