Leicester mayor Sir Peter Soulsby set for £44,000 rise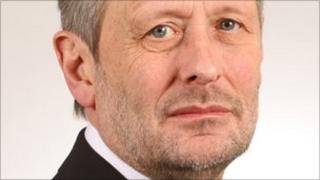 Leicester mayor Sir Peter Soulsby will get a £44,000 pay rise if recommendations are approved.
Sir Peter currently earns £56,000 but an independent remuneration panel is recommending Leicester City Council increases it to £100,000 per year.
Under the plan deputy mayor Rory Palmer would see his salary rise from £34,000 to £75,000 and assistant mayors would also get a pay increase.
Councillors at the Labour-run authority will vote next week on the proposals.
Chief executive axed
Martin Traynor, chairman of the independent remuneration panel for Leicester City Council, said: "After consideration, the panel concluded that the appropriate remuneration for the city mayor of Leicester should be £100,000.
"The panel concluded the deputy mayor should receive 75% of the mayoral salary, based on the fact that the deputy mayor more than just deputises for the mayor, he also undertakes the chief of staff role and added portfolios."
Mr Traynor added the six assistant mayors could see their allowances rise from £26,000 to £40,000 if plans were approved.
Sir Peter became Leicester's first directly-elected mayor, in May.
He campaigned on a platform to review the role of the city's chief executive and the post was scrapped in August, resulting in savings of £175,000 a year.