Leicester school catchment areas set to change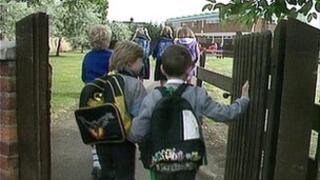 School catchment areas in Leicester are set to change after a review.
A 10-week public consultation on the proposals will begin on 5 December before a final decision is made by Leicester City Council.
The review was prompted by a family who could not get their son into a school a minute's walk from their home.
Councillor Vi Dempster, the city's assistant mayor, said the changes were being made to make sure every child could attend his or her local school.
The new catchment areas will come into force in the 2012/13 school year, the city council said.
Ms Dempster said: "Over the years we've had an increase in housing across the city and the catchments have not changed to reflect this."
She said the council had looked at every catchment area and evaluated the distance to each school.
She added: "Some people will consider themselves winners and some people will consider themselves losers.
"You can't please all of the people all of the time."