Leicester war memorial designs unveiled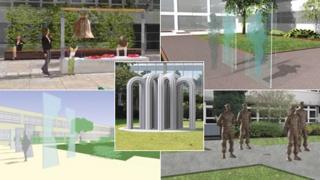 Five designs for a new war memorial in Leicester have been unveiled.
The £75,000 monument will honour local servicemen and women who lost their lives in conflicts around the world, since 1945.
The plans have gone on show across the county and the public are being invited to help chose one.
Leicestershire County Council said the memorial would stand outside County Hall and should be ready for Remembrance Sunday in 2012.
The council's Peter Roffey, who is also Royal British Legion's county president, said: "There are many memorials around the county that reflect remembrance but there isn't anything specific for the conflicts since the Second World War.
'Distinctly different'
"We felt it was appropriate that the council could provide somewhere where people could come and sit, relax and contemplate the loved one they are thinking about."
The designs include one of four life-size bronze soldiers, a "garden of memories" and a cast bronze bell.
"We've got five distinctly different artists' impressions of Remembrance," Mr Roffey said.
"What we're looking for is something that will resonate with you and with your grandchildren in years to come.
"We want people's impressions and comments and they will all be filtered and put to a panel in December and help us come to a decision."
The five designs were selected from over 70 submissions and will be on display at County Hall, Hinckley Library, Loughborough Library and on the county council website, in the next month.