Hundreds of parents fined in Leicester truancy cases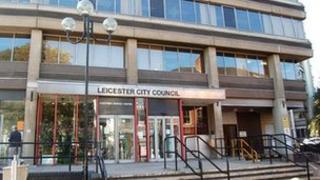 Hundreds of parents in Leicester have been fined for failing to prevent their children from truanting, the city council has revealed.
Since September, Leicester City Council said it had issued 612 penalty notices to parents whose children did not regularly attend school.
The authority said poor school attendance affected a child's social skills as well as its education.
In serious cases, the parents of truanting children could be jailed.
The law states that if a child attends less than 85% of the school year, equivalent to about one day off every week, then the parent could be liable for prosecution.
Leicester assistant mayor Councillor Vi Dempster, who is responsible for children's services, said the city's guidelines were stricter. She said children should be attending school more than 92% of the time or their education would suffer.
'Poor social skills'
"We know from research, that if attendance slips below 92% there's going to be an impact on the child's education," she said.
"It also impacts on their social abilities because there's another dynamic to school. It's not just about getting good exam results, it's about learning, developing and practicing social skills - how you work as part of society."
Ms Dempster said parents who claimed they could not stop their child from truanting was no longer an acceptable excuse.
She added that the council was offering a six-week parenting course to parents who "don't have a lot of control over their child".
Ellen Collier, a principal education welfare officer for Leicester City Council, was in charge of bringing some of the truancy cases to Leicester Magistrates' Court.
"We understand the point about the cost of holidays when schools close, because they do go up, but our focus is the cost of the child's education," she said.
In the 2010/11 academic year, Leicester primary schools had the second highest truancy rates in England with 1,600 notices handed out across 12 months.