Suspect's image issued after Leicester fire attack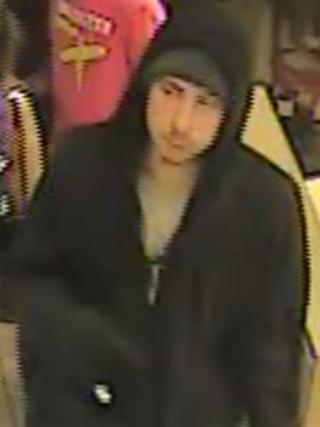 A new image has been released of a suspect police are hunting after two men were set on fire in Leicester.
The victims Russell Banks, 21, and Robert Laszewsk, 20, sustained serious burns in the attack, at about 00:45 BST on 25 October, on Charles Street.
They were later taken to hospital, where Mr Banks remains in a stable condition.
Two men, aged 20 and 28, were arrested and bailed in connection with the case, Leicestershire Police said.
A £5,000 reward has been offered for information that leads to convictions over the attacks.
Detectives believe that the man they still want to question may have travelled by taxi to Nottingham, arriving at Upper Parliament Street at about 01:15 BST on 25 October.
CCTV footage of a man running away from the scene with his jacket on fire was released by police a week ago.
Det Insp Simon Preston said the man may have burn injuries.
"We are still appealing to anyone who has treated someone for burn injuries to contact us," he said.
Anyone with information about the attack should contact Leicestershire Police.