Shepshed mother who stabbed children 'was depressed'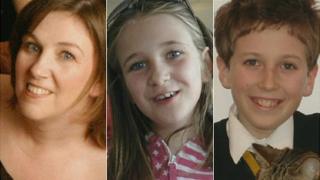 Two children were unlawfully killed by their mother who then took her own life, a coroner has recorded.
Thomas, 13, and his sister Eleanor, nine, were stabbed by Claudia Oakes-Green, 44, before she killed herself, an inquest in Loughborough heard.
Their bodies were found at their home in Shepshed on 23 February after neighbours raised the alarm.
The inquest was told Mrs Oakes-Green had become depressed about her job and her son's asthma.
Coroner for Rutland and North Leicestershire Trevor Kirkman recorded a verdict of unlawful killing for the children and said Mrs Oakes-Green "died of her own hands" at North Leicestershire's Coroner's Court on Tuesday.
Mr Kirkman said friends and family could not have anticipated the "tragic event".
'Difficult time'
The inquest heard Mrs Oakes-Green's mother became concerned after her daughter failed to answer a number of her calls and texts in February.
Neighbours examined the family home on Garendon Road and noticed bloodstained bedding through the first floor window and the police were called.
Post-mortem examinations showed Thomas and Eleanor died from stab wounds to the chest and neck.
Their mother died from self-inflicted knife wounds to the arms.
Det Insp Simon Cure told the court Leicestershire Police found a number of knives, some of which had been bought the day before the deaths, and three handwritten notes from Mrs Oakes-Green at the premises.
A laptop was also recovered which showed that the mother-of-two had been visiting websites on depression, suicide and self-harm.
In a statement her husband Iain Oakes-Green, 41, father to Thomas and Eleanor, said he loved and missed his wife and children very much.
"As you will appreciate, this has been a very difficult time and I continue to face and attempt to deal with the effect that this tragedy has had on my life," he said.