Leicester Royal Infirmary's intensive care closed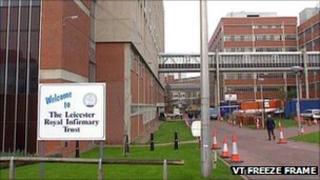 The intensive care unit at the Leicester Royal Infirmary has been closed after a patient was found to be carrying a rare superbug.
A patient was found to be infected with Acinetobacter baumannii, a bacteria that is resistant to a wide range of antibiotics.
The hospital said it would continue to provide intensive care while the unit is steam cleaned and disinfected.
A spokesman said up to 10 non-urgent operations would have to be cancelled.
Dr David Jenkins, lead infection prevention doctor at Leicester's Hospitals, said: "This infection was acquired during the patient's hospital stay outside the UK.
"Because the bacteria is resistant to most antibiotics we are working to eliminate all possible traces of it from the intensive care unit as quickly as possible.
"We are aware that this will cause some disruption to our intensive care service but can reassure patients and relatives that we will continue to provide intensive care to the highest standard while protecting our patients from infection."