London 2012: National Space Centre on route of Olympic Torch Relay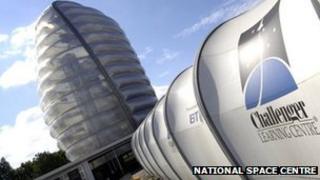 The Olympic torch will stop at the National Space Centre in Leicester when it passes through the county next year.
On 2 July, it will be carried from Market Harborough to Leicester, where the torch will make an overnight stop.
The next day, the flame will be taken to the space centre before travelling through Leicestershire's villages including Quorn, Hoton and Asfordby.
Torchbearers will also run through Langham, Oakham and Uppingham, in Rutland, on 3 July.
From Market Harborough, runners will then travel through Lubenham, Foxton, Kibworth Harcourt and Oadby before arriving in Leicester for the overnight stop.
Leicester City Council will be hosting an evening of celebration at Abbey Park to mark the event.
Councillor Rory Palmer, deputy city mayor, said he was "tremendously proud" that Leicester was part of the occasion.
"We are delighted to be able to play such a memorable role in the Olympic celebrations," he said.
"The Olympic flame is an incredibly powerful symbol and we will be celebrating the spirit of the Games and of our communities at a special event in Abbey Park."
'Huge public turnout'
On 3 July, after the space centre stop-off, the flame will pass through Leicestershire visiting Quorn, Loughborough, Hoton, Wymeswold, Asfordby and Melton Mowbray.
Chas Bishop, chief executive at the space centre, said: "The eyes of the world will be following its progress around the country, so we look forward to being part of this global sporting occasion."
After leaving Leicestershire the 80cm-tall perforated gold torch will be carried through the three villages in Rutland.
Roger Begy, leader of Rutland County Council, said: "It is a real opportunity for Rutlanders to enter into the Olympic spirit and 3 July 2012 promises to be a very special day in Rutland, I'm sure we'll see a huge public turnout to welcome the torch."
The 70-day torch relay begins at Land's End, Cornwall, on 19 May and finishes at the Olympic Stadium in Stratford, London for the opening ceremony on 27 July.
All together, the Olympic torch will pass through more than 1,000 locations as it tours the UK ahead of the Games.