Leicester's Special Olympics 'worth £2.8m to economy'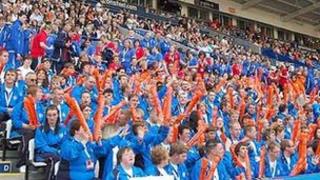 The Special Olympics held in Leicester in 2009 was worth an estimated £2.8m to the local economy, a joint report by the city's universities has found.
The University of Leicester and De Montfort University carried out the research to show the impact of the games on the city.
But the study also claims the event could not have taken place without a £1m investment from the city council.
The report said a review of funding for future games was needed.
The 2009 games in Leicester involved about 2,500 athletes, 1,200 coaches plus 6,000 family members and carers.
'Radical thinking'
It hosted 21 different sports in 21 sporting venues.
The research paper was released at an event hosted by Leicester West MP, Liz Kendall, who said: "The report calls for radical new thinking on future games.
"Sport provides real social, as well as health benefits for people with learning disabilities," she said.
"I hope the government will learn the lessons from Leicester's Special Olympics to improve sporting opportunities for people with learning disabilities, and to inform the 2012 Olympic and Paralympic Games."
The report was welcomed by Hugh Robertson, the Minister for Sport and the Olympics, who said: "Lessons learned from this study are immediately transferable as the nation prepares to host other major sporting events, such as the Olympic Games and the Rugby World Cup.
"The challenge of how to drive a legacy for these events is one we all face - and the lessons picked up by this work will be of enormous use to us," he said.