Lubbesthorpe housing plan process too long, say residents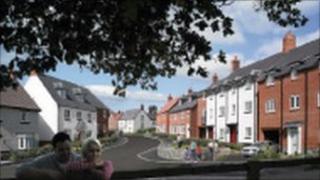 Residents opposing plans for a major housing development in Leicestershire have said the process to decide the outcome is taking too long.
A second public consultation on plans for 4,250 homes in Lubbesthorpe has been delayed from autumn to early 2012.
A residents action group said people were getting "increasingly frustrated".
Blaby District Council said it was gathering extra information and wanted to avoid asking residents for their views over the Christmas period.
The land proposed for development is off Beggars Lane and borders Leicester Forest East, Enderby and Braunstone Town.
'Traffic data delays'
David Hughes, who chairs the Leicester Forest East Residents Action Group, said: "Two years is an awful long time to have this proposal over our heads.
"People are getting very frustrated and the number of people who have objected is somewhere in the region of 1,500."
Opponents have said the proposal would seriously disrupt traffic flow and increase pollution.
In a statement, the council said: "A second consultation giving people a chance to comment on any additions or amendments to the plans has always been planned, but unfortunately this has been delayed while further data on traffic is collected.
"The council wants to avoid to comment on this important issue over the busy Christmas holiday period and has therefore decided to begin the consultation early in the new year.
"We sympathise with residents' frustration with this delay, but it is vital that people have all the relevant and correct information available to them before we ask them to comment."
The council said it had sent about 8,000 letters to nearby homes to make sure all interested parties were involved.
Hallam Land Management, Barratt, David Wilson Homes and Davidson Developments submitted the planning application in February 2011.
In a statement, the developers said: "We appreciate that Blaby District Council needs additional time to review the information associated with this application, and we will continue to work within their new timescales."