BBC Radio Leicester gets taken over by radio students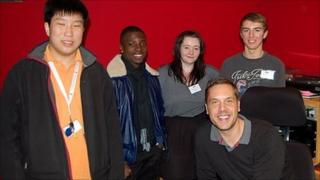 Young people who run the Leicester based charity radio station Take Over Radio took over the airwaves on BBC Radio Leicester.
Their aim was to offer presenter Jim Davis a fresh look at some of the issues that are challenging young people in Leicestershire.
Four youngsters, aged between 16 and 17, tackled issues such as youth unemployment, student welfare at university and challenged Esther Ranson over the organisation Childline's relevance, since it was launched 25 years ago.
Bradley Foster, Niamh Synclere-Cicinskas, Tyrone Badu and Daniel Leung were on air from 09:00 BST to 12:00 BST on 21 October.
'Creative flare'
The youngsters wanted to bring their own real life experiences to the programme.
Tyrone, 17, who heads a music programme on Take Over Radio, said: "We talked about local students finding it hard setting down into university life, as one of my friends felt isolated when he moved here."
The students also asked listeners whether yound people were doing enough to seek employment?
Niamh, 16, who presents "Opinion8" on the student radio station, said: "Although youth unemployment is at an all-time high, young people are trying hard to find jobs."
The young presenters took on various tasks on Jim Davis' programme.
Daniel, 17, a weekend breakfast presenter on the charity radio station, said: "I was given the job of being BBC Radio Leicester's radio car reporter, so I got to go and report from outside of the studio.
"I did live interviews from a circus event into the programme. It was a great chance to be creative."
BBC Radio Leicester's Jim Davis said: "It was a wonderful opportunity to provide our audience with a chance to hear from young people talking about issues that affect all of us here in Leicestershire."
Bradley, 17, a Take Over Radio presenter, said: "We had a great experience, I'll certainly take on board what I have learnt and apply them to the things I'll do in the future."