Leicester Indoor Market could be demolished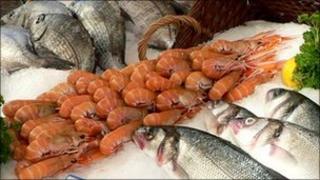 Shoppers, traders and retailers are being asked whether Leicester's Indoor Market should be demolished.
Leicester City Council's four-week consultation period aims to find out how the market could be improved and developed to attract more customers.
Demolishing the historic indoor market and moving the meat, fish and cheese stalls is one of the ideas in the consultation, which ends on 6 November.
The authority's plans for a £9m revamp were scrapped last year.
However, the city council spent £600,000 removing part of the indoor market roof, despite complaints from stallholders, to create The Market Corner which accommodates 20 gazebo-style food stalls.
'21st Century'
Councillor Ted Cassidy, assistant city mayor responsible for economic development, said traders in the "very tired looking" indoor market area were "losing trade".
"Trading has been difficult for a few years and the indoor market is not to the style and quality that we'd want today, we've got to take it into the 21st Century," he said.
"We've talked to the market forum and they think we should consider knocking the indoor market down, but there's a lot to be done before."
Adam Wakefield, an indoor market trader, said: "We do need a new building or premises.
"One of the ideas put forward by the traders was to build units outside, for us indoor people, flatten the indoor building and build us a new modern market for indoor and outdoor traders."
'Pack up'
However, stall holders Sue and Vic, who run a market wool shop, said: "It's impractical to for us to do our trade outside with the volume of stock we carry.
"The alternatives are that we could have a similar indoor accommodation outside, with a similar floor space, or failing that we pack up and go home."
Customers have mixed views about demolishing the 1970s building, home to Leicester's Indoor Market.
The revamp of the indoor market, which has been in the same place for 700 years, could cost more than £6m, but it was "crucial to the city's retail future", Mr Cassidy said.
He said the city council would need to look at its "other capital development plans" to find money to fund the project.
Mr Cassidy added the proposals from the results would again be put forward for another public consultation.