'Boxing Binman' Rendall Munroe quits bins for the ring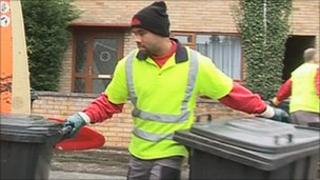 Leicester's "Boxing Binman" Rendall Munroe is to leave his job as a refuse collector to concentrate on another crack at the world title.
The 31-year-old super-bantamweight fighter hopes becoming a full-time boxer will give him the focus to achieve his potential.
Mr Munroe has gained a large following by incorporating his day job into his boxing image and ring costume.
He said he would miss the bins but had his heart set on a world title.
The fighter, who is promoted by former world champion Ricky Hatton, said: "It might be the end of a good thing really.
"I'm a bit disappointed as I always said I'd like to carry on with the job because I enjoy it and the lads I work with.
"But my team around me have said 'Rendall - you're losing a bit in that fight by going to work'.
"It's not having the time to recover or the right time to prepare."
Munroe was praised for his gutsy display in losing his WBC super-bantamweight title fight against Toshiaki Nishioka in Tokyo last October.
He has always been given time off work before and after fights but now feels he needs to devote even more time to his boxing career.
His team are trying to line up a world title eliminator bout in November ahead of a second bid for the world title sometime next year.
However, the pugilist said he did not plan to ditch the "Boxing Binman" image which sees him and his corner team enter the ring in fluorescent yellow binman jackets.
He said: "Everyone recognises me as the 'Boxing Binman' - a lot of people don't even know what my name is, they just know me as the binman.
"That's the thing that's worked for me and if it carries on, it carries on."
Hatton, who has been Munroe's promoter since March, described the boxer as "a joy to work with" and said he was determined to secure him a second chance at a world title.
Munroe said: "I'm knocking on the door to be a world champion and this could give me that extra percentage to push the door open."