Shackerstone residents save historic church from closure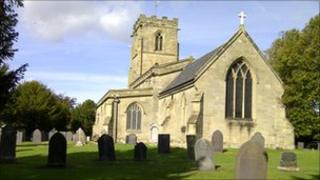 Residents of a Leicestershire village have saved their listed church from closure after raising £107,000.
In 2004, St Peter's in Shackerstone was so dilapidated, its insurance cover was about to be withdrawn.
Since then, The Shackerstone Church Restoration Trust has raised funding to replace the floor, repair the electrics and refurbish the organ.
As a result its five trustees have been nominated for an English Heritage Award in recognition of their fundraising.
'Future generations'
Trustee Aubrey Chalmers said the villagers had been keen to protect the Grade II* listed church, which has been the site of religious and community life for more than 800 years.
The timber floor had collapsed, the electrical wiring and heaters had been condemned, slates were falling off the roof and the organ was "held together with string and elastic bands".
"People were appalled and they wanted to see the place remain for future generations," Mr Chalmers said.
A group of residents came together and asked the insurance company to extend their cover for 12 months, on the understanding restoration work would take place.
"What is very surprising is villagers were motivated to keep this place open and many people who had never stepped foot in the church have contributed very generously to its upkeep," Mr Chalmers said.
He said the trust were "surprised and honoured" to be nominated for the English Heritage Angel Award for the Best Rescue of a Place of Worship. Winners will be announced on 31 October.
St Peter's Church will feature on the BBC 2's The Culture Show, along with other nominees, on Friday 21 October 2011.