Leicester heart patient blood test 'could save lives'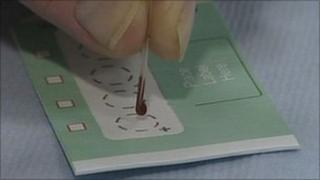 A new blood test developed in Leicester could save lives and the NHS millions of pounds, it has been claimed.
The test uses a single spot of blood to determine what medication is in the body of a patient with heart disease.
Researchers at De Montfort University said it could save millions of pounds in unused drugs.
They said up to 40% of cardiovascular patients fail to take medication properly which can lead to hospital re-admissions or even death.
The test, which is currently being trialled, measures the amount of drugs in the body from a single pin prick of blood and can be carried out in clinics, pharmacies or in the home.
Project leader, Dr Sangeeta Tanna, said: "Once the sample is dry, the card can then be posted to a laboratory for analysis.
"The results will indicate the types and levels of drugs in the patient's blood and will help doctors make an informed clinical decision concerning the levels of prescribed medication."
The University of Leicester and the University Hospitals of Leicester NHS Trust are also involved in the project.
There are currently about 2.6m people in the UK living with heart disease.