Crisp packet dress wins Leicester College design award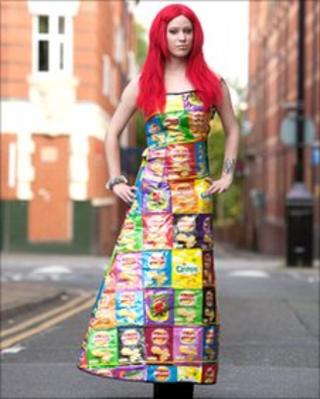 It might not be to everyone's taste - but a Leicester fashion student has made a dress out of empty crisp packets.
Rebekah Kirkland, 23, stitched together hundreds of wrappers to make the garment for her end-of-year project at Leicester College.
She gathered the packets from a collection box which she left for fellow students to fill.
Miss Kirkland said: "It was a tedious job but it was worth it."
The full-length dress took two months to complete and won the college's Sustainable Design Award for 2011.
Miss Kirkland said: "It's such a big thing for fashion these days to try to reduce waste so I took it a step further.
"I'm into recycling, reducing waste and like art and prefer fashion to be more art based.
"I put a box in college and asked for people's old crisp packets. I had to wash them all before I sewed them together with a sewing machine.
"Each one of the squares is three packets thick because I didn't want it to rip."
Roy Morgan-Wood, from the college, said: "Rebekah's design will encourage people to think of consumption and waste in a different way."
Miss Kirkland said: "It's made to fit a friend of mine, who modelled it for me at the fashion show, so it only fits her.
"I would never throw it away because of the amount of work that went into it."