Leicester residents concerned over student skyscraper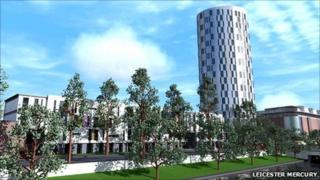 Some residents in Leicester are concerned about the third tallest skyscraper in the city being built in their area for student accommodation.
Work has begun on the 66m (216ft) tower on the corner of Eastern Boulevard and Jarrom Street and will be completed in September 2012.
Stuart Bailey, from Leicester Civic Society, believes the £31m project would "shadow" neighbouring properties.
The developers, Megaclose Ltd, have declined to comment.
'Tall development'
Some people living in the area said they were "angry" because they were not informed properly about how tall the building was going to be.
Mr Bailey said: "When it was proposed, a couple of years ago, we opposed it strongly.
"This is a very tall development in a low rise area and it will tower over and shadow all the neighbouring properties, most of which are residential.
"It will look hideous, unpleasant for the residents, it'll affect their lives and it'll affect their amenities."
The 22-storey building, which would contain 369 flats for students, would be a similar height to Goscote House on Sparkenhoe Street.
It would be smaller than St Georges Central at 82m (269ft) on St George's Way and the Cardinal Telephone Exchange, 84m (275ft) on Humberstone Road.
Some residents said they felt "ignored" because about 40 objections were made when the development was approved in 2009. The project got the final go ahead in November 2010.
Mr Bailey said he believed there was no need for further student accommodation and that the new development would see the area, which has rows of terrace houses - many of them rented to students - becoming "one big student campus".
"The developers are building and building in the hope of making money, but the bubble will burst and the universities will freeze student expansion," he said.