Carer, 90, supports disabled son in Ashby-de-la-Zouch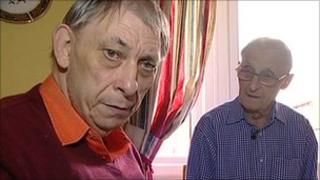 A 90-year-old carer from Leicestershire is concerned about what will happen to his disabled son when he is no longer able to support him.
Alf Winter lives in sheltered housing in Ashby-de-la-Zouch with 55-year-old Keith, who has cerebral palsy.
The pensioner is one of an estimated 77,000 carers over the age of 65 who live in the East Midlands.
"There's nobody else to do it. It's just perseverance - I get on and do it," said Mr Winter.
He does all the household cleaning, shopping and washing, still drives, and cooks full meals every day.
Eileen Wheeler from Derwent Living, which runs the housing where they live, said: "I think Alf's absolutely phenomenal but he's not aware of it.
"He's so humble he just carries on every day he does what he's got to do. Normally we have children and they fly [the nest], but Alf's been dedicated to Keith for 55 years."
Mr Winter believes the responsibility keeps him feeling young.
"I think if I didn't do it I should get old," he said.
However he is worried about continuing the same level of care in the future, and what this will mean for his son.
Ageing population
Carers UK said improved healthcare services and advances in medical technology meant people were living longer, placing increased pressure on families to care for elderly and disabled relatives.
"We're very concerned. The directors of social services across all of England have said they'll be about £1bn cuts to social care services this year," said Steve McIntosh from the charity.
"We're really worried this is going to put additional pressure on all types of carers - but are particularly concerned about carers who may have ill health problems themselves, and that may be particularly the case for older carers."
Based on the 2001 Census, Carers UK estimate the number of carers in the UK has increased by 9% in the last 10 years - rising to 15% for carers over the age of 65.
The last census recorded a total of 433,923 carers in the East Midlands - with 77,249 over 65 and 25,876 over 75.